My old standard cab Nissan Hardbody D21 2WD 4cyl truck was rather nice.
I had spent nearly $20k over 10 years modifying it to suit my desires:
Bucket seats.
Decent stereo.
Tinted windows.
Lowered.
Larger wheels.
Low-profile sticky tires.
Big, highly effective brakes.
Polyurethane bushings.
Tuned spring rates, sway bars, etc.
Modified motor.
Aftermarket clutch, driveline, rearend, etc.
Reduced weight body and chassis.
Some goddamn fuck-tard piece of shit ass-borne dick-less monkey(s) stole it out of my driveway September 2010.
Well, I got shit back for my insurance. Thanks, Progressive. I love you too...
Anyway, I bought two stock trucks from my insurance payout. I've been modifying one of them to make it as good as, if not better than, my old one.
Thankfully, it came with a new clutch and newish brakes. At least, it hooks up under irresponsible power shifting and stops relatively well given the sad stock wheel/tire combo.
So far, all I have done is:
New grille, front bumper, clear corner lights, clear turn signals. Stock bits were hashed.
3" drop leaf springs from Stillen
3" drop control arms from DJM.
KYB GR-2 shocks,
Polyurethane leaf-spring bushings, upper and lower polyurethane front control arm bushings,
New upper and lower ball joints,
Addco front and rear sway bars.
Painted the chassis, replaced some engine sensors.
Removed the rear bumper in place of a stock filler plate and license-plate holder in the interest of saving weight. Wrong end to save weight, I know.
All told, it goes, it turns, it stops.
My next steps in upgrades, not really in any particular order:
Wheels and tires.
-I learned my lesson about Titan rims - they are uncomfortable to ride on the daily. Instead, I have NISMO 16x7. They are basically Rays TE37 with a NISMO sticker on them: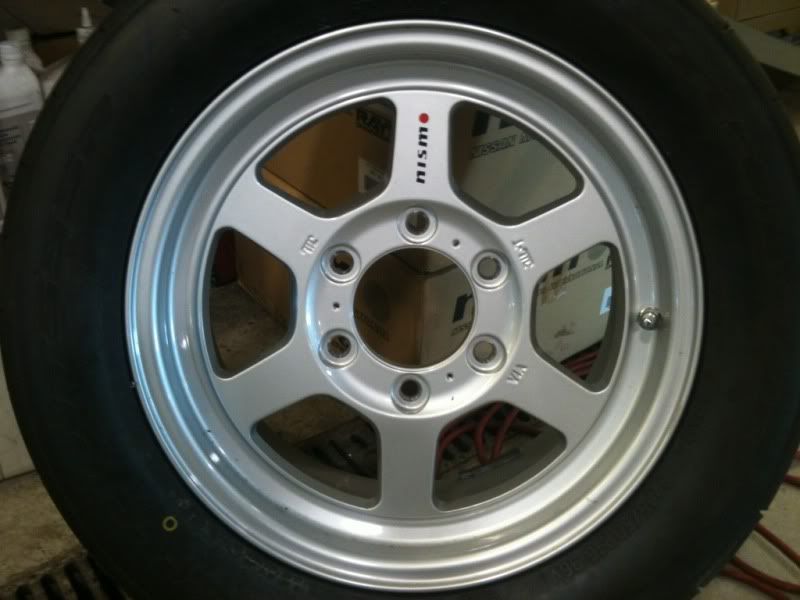 - I also have some Pathfinder 15" chromies for daily use, just need some sticky rubber.
Rear LSD from a Pathfinder.
- I have one now. It has disk brakes, as well.
- I will have to remove the rear brake proportioning system to accommodate. Oh well.
- This is not a bolt-in. It requires chopping off about a dozen brackets, grinding down the housing, welding on spring perches. It also needs a custom driveshaft made from V6 Hardbody flange combined with a 4 cylinder shaft in order to make it work.
KA24DE motor from a S14 240SX.
- Purchased two complete motors and harnesses. Plus a transmission and some other accessories.
- 6 puck stage 3 clutch, should hold to 400 HP
- Lightweight pulley set.
- Still need to buy:
--Oilpan (cut and paste front sump 240sx pan flange with truck sump.)
--front cover/oil pump
--water pump
--timing chain
Turbo.
- I intend to move to a large plenum intake and use a eBay turbo kit to do the initial fitment. Figure 250 HP to the wheels. After it works, I'll fortify the spare block and invest in a name brand snail.
Paint.
- It looks like it'll be a very rough satin black with a ghost Ratsun logo in the tailgate.
Seats.
- Some nice buckets that might allow my 6'7" frame to clear the headliner.
Brakes.
- Upgraded rotors and pads. Use the 2WD HD rotors and calipers, not the Pathfinder ones else it doesn't bolt up. Drilled is great for cooling but has the potential to crack. Slotted is much less likely to crack. I got drilled and slotted rotors front and rear, plated as well for appearance.
Tint.
- I am torn on tint. I like the privacy it affords but I know it attracts the attention of the police.
Stereo, I'm just going to try and do the same thing I had before.
- 2 x 6.5" 3-way speakers in the doors
- 2x 4"x9" 3-ways in the B-pillars behind the doors,
- 10" rear-firing sub in the center
- 4x250W amp for the components
- 1x500W for the sub.
More than loud enough.